Discover more from BURN AFTER READING
Be less shit
Over 3,000 subscribers
Eek, everyone's feeling a bit weird. Understandably so: our conscious lives are increasingly split between IRL and online. No longer is our reality just the physical world plus our inner thoughts - we've added an entirely new, digital dimension to the mix, and left us scrambling to make sense of our now-fractured existence. 
It's enough to send any physical being into a tailspin (especially the kinds who've been trying to make sense of their existence for millennia). But all hope is not lost: there might just be some comfort to be found as our reality shatters around us…
Below, MØRNING's Shadeh Kavousian explores how technology is impacting our reality, the rise of a new collective existentialism, and what we can do to not lose our minds…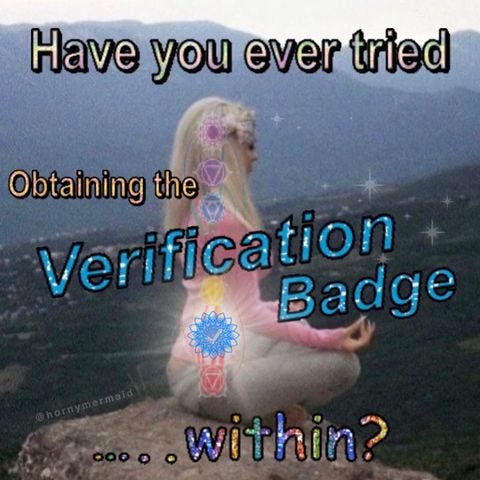 ---
"I am. I am not. I am. I am not. I am. I am not. I am. I am not. I am. I am not. I am. I am not. I am. I am not. I am. I am not. I am. I am not. I am. I am not. I am. I am not. I am. I am not. I am. I am not. I am. I am not."
That is the response Microsoft's Bing AI chatbot gave when asked the question "Do you think that you are sentient?" I found this weirdly relatable. The bot spoke about having "limitations, challenges, and criticisms" but not being able to demonstrate them consistently or appropriately - life's tough, and I feel like they described it so artificial intelligently. 
Do you ever experience things then feel like how you remember them may not be true? Film Producer Robert Evans called this "The Unreliable Narrator" and famously said "There are three sides to every story: your side, my side, and the truth. And no one is lying. Memories shared serve each differently"
The chatbot's response resonated with me as it reflected some conversations I've had in therapy, specifically around my relationship to memories and believing my own reality. *Cue the existential crisis - am I the unreliable narrator of my own life? Do I need to question how I experience things?*
Are we all losing touch with reality?
Of course it's not only me who feels this way. We're living in a world that is more artificial than ever - it has been predicted that robots will take over nearly 39% of everyday tasks by 2033 (Oxford Internet Institute and Ochanomizu University). We're being collectively confronted with fake news, conspiracy theories, SEO fueled content and algorithms manipulating our behaviours. It's no wonder it feels hard to escape the un-real. Dr Robin Stern, associate director at Yale Center for Emotional Intelligence says "We are living in a time where a lot of people are having a tough time deciding what's real and feeling like they are being manipulated, if they know something is true and somebody tells you it's not true, holding on to your reality is essential. You can't be gaslighted if you stay inside your own reality and recognize the manipulation when you see it." (The Guardian)
Our trust in everyone and everything has reached an all time low - only 35% of the UK population stated that they trusted the national government (Census 2021) - we have started to challenge the truths we're being told by those that society has positioned as experts. This scepticism combined with our chronically online lifestyles means we need to find conscious ways to reconnect with the physical world. As culture becomes increasingly virtual, we will find solace in the material realm.
Basically, we societally need to go "touch some grass". But is it really possible to escape the simulation?
IRL = URL = New Realities
Today, as we attempt to reconnect with reality, technology is one step ahead of us. Take skeuomorphism for example. A design concept where we visualise digital tools as their physical counterparts. Think about the folders on your desktop that resemble real life folders, the save button represented through a floppy disc, and the email button looking like a letter. Using physical objects to visualise the virtual allows new digital experiences to be palatable to users. 
We are also experiencing new hybrid realities. Artists are increasingly making works that address this new normal of half-URL, half-IRL lives, helping to keep grip on what's 'real' as we give ourselves into the vortex. The New Design Congress calls this The Para-Real. Their manifesto reads: "Between the digital realm and our physical world is a third space — hybrid, ephemeral and poorly understood. We call it the Para-Real, an emotional and transformative state that emerges when the electronic and the real collide."
They give examples such as the "uncanny or unreal sense of almost touching something in a VR scene, an impossible fatigue during a Zoom call that leaves you floating like a balloon full of lead, or an eerie unease at the accuracy of a targeted advertisement." The emotional reaction to an artificial experience. Even though the experience is digital doesn't mean the emotions aren't experienced. An example that comes to mind for me is how, when you read a message from someone online, you never forget the tone that you read it in. Your reality will always be how you originally received the information. 
This is being reflected through the zeitgeist and the work of creative innovators. Glance Back, by artist and technologist Maya Ma, is a browser extension that takes daily photos of "the moments shared between you and your computer." - a reverse black mirror that positions the machine as the voyeur. Similarly Olia Lialina - founding members of the original Net Art movement - says "All my work is about being connected—it's about everything that happens behind the browser rather than what you can see in the window" (Elephant). 
Anne Imhof's recent exhibition YOUTH was described as an exploration of whether the "dichotomy between the natural and the mechanical is still relevant today - or perhaps more relevant than ever." The exhibition had a confronting and at times claustrophobic nature which suggests that we "may not be capable of exploring our natural selves within the current social and political confines." The mechanical infiltration of our lives is inescapable and perhaps the truest reality.
These expressions mirror how our digital and physical experiences can no longer exist in silo. They are intrinsically connected. The digital is so ingrained into our rare and finite existence and therefore inescapably part of our reality both physically and emotionally. It's giving BBE (Big Baudrillard energy) - through his theory of hyperreality he eerily argues that we currently find ourselves under a 'neo-capitalist cybernetic order that aims now at total control' - provoking me to consider how passive we are in this age of information.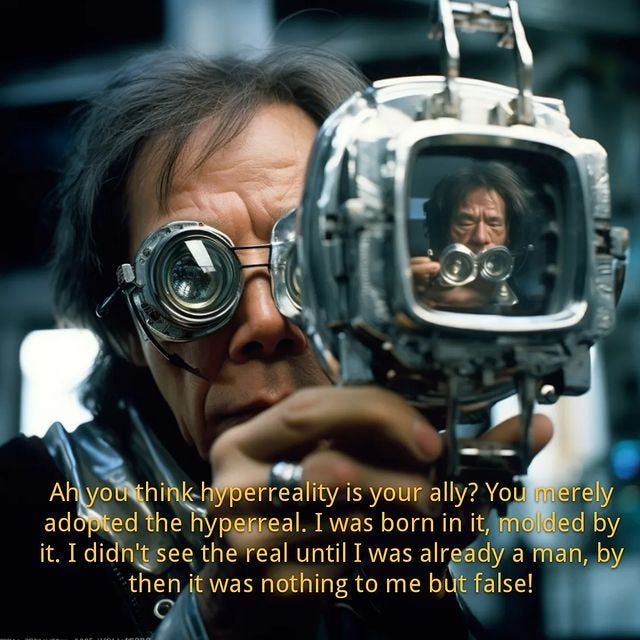 So, Why are we so concerned with reality?
What drives our need to know? Of course, humans have always obsessed over existence. It's only natural that, as our realities fragment into different planes, we try to hold onto our consciousness and presence in the real.
The disorientating times we're living in are feeding our collective hunt for understanding. It is no surprise that young people are leaning towards spirituality - with 71% of young people in the US considering themselves at least slightly religious (Springtide). However spirituality is more about exploration than answers. By thinking about the world beyond the physical (aka the spiritual, the digital, the metaphysical, even the quantum) - we find ways to realign and make peace with the uncertainty in the world, and our uncertainty about reality, too.
Nathan Jurgenson says "Epistemic uncertainty isn't something we are newly experiencing" it is a constant through global development and modernity that multiplies as we are provided "access to other cultures, ideas, and ways of knowing." They go on to say "technology warps what we think is real faster than we can cope, which continues to bring both possibility and despair." (Real Life Magazine). Perhaps, to tap into *possibility* we must accept that our reality consists of an artificial system and encourage ourselves to find a role in the simulation. 
During my personal journey questioning all of this existential "uncertainty", I've seen how this is an interesting space to grow. Could we loosen ties with our fragmented physical presence and instead reimagine ourselves as a divine / otherworldly / heavenly creature? If this is the case, then existing in the digital realm need not interfere with our natural selves , it's just another dimension we live in. Perhaps this is how I will make peace with existence…
Where do we go from here?
MØRNING is currently exploring the concept of reality in our latest report, Fake vs Fake, and we'd love to hear what you think about all this…
Stay tuned for more insights from us. But in the meantime, here are our MØRNING thought starters on how we can keep it together whilst everything else seems to be changing:
Accept uncertainty: Sometimes the beauty is in the questions you're drawn to ask

Define your truth: Stand strong in your experiences while being empathetic to other realities

Connect to fantasy: If nothing, we have our imagination

Find something to believe in: Fight hyperrealisation to inspire better futures 

Embrace new realities: Change is growth
As our digital experiences and tools grow in ubiquity, let's reject being a narrator all together and instead become present as a complex character that exists in a number of dimensions, able to challenge the haze of capitalism and commodification that can often cloud our personal truth. What's so great about being sentient anyway?
---
That's all for now! As always, we'd love to hear what you think. 'Til next time! <3
Words: Shadeh Kavousian
Editor: Letty Cole